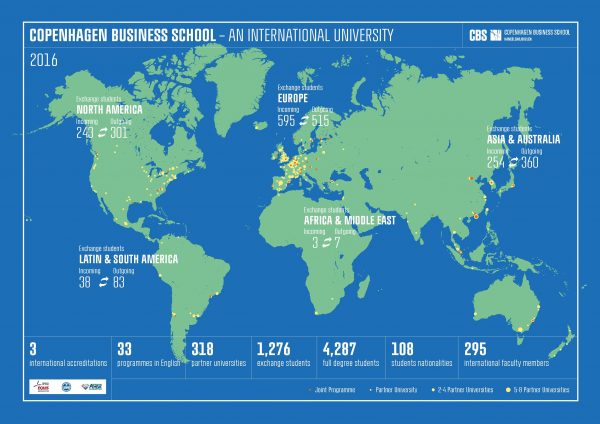 Celebrating CBS Centennial – and our exchange partnerships
When: Monday 24 April, 2017 - 00:00 to Tuesday 25 April, 2017 - 00:00
CBS International Office is inviting our exchange partners to a two day seminar focusing on exchange and international education. Our exchange partnerships have and will continue to be an important part of our international identity, which is why we would like to celebrate this anniversary with our partner universities.
Celebrating CBS Centennial is hosted by CBS International Office and will be held from April 24 – 25, 2017.
The two day seminar will focus on the operational side of exchange. It is aimed at our colleagues who work with student exchange and experience the daily highlights and challenges. Despite borders and cultures, we all face the same issues when dealing with small or large scale student exchange.
CBS International Office will run a series of sessions and create a platform for discussion and knowledge sharing among the participants. We have also invited key CBS professors and students to present relevant topics.
We see this as an opportunity for our guests to network with colleagues from other universities / business schools and perhaps bring home some inspiration.
The seminar is free of charge for a limited number of participants from each partner university.  Registration is for invited guests only.
Keywords:
Networking with reputable business schools
Introduction programs for incoming students
Working with volunteers – buddy program
Social media communication
Case competition
Creation of tri-national programs
The Entrepreneurial University
Short term programs
Housing challenges
International Summer program
Campus tour
More information: http://www.conferencemanager.dk/CBSCentennial2017/the-event.html