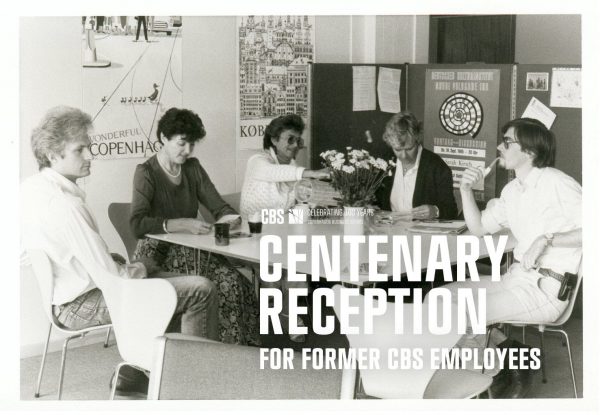 Centenary reception for former CBS employees
When: Friday 22 September, 2017 - 14:00 to 18:30
Where: The Wedge, Atrium
…an occasion to reunite and mingle with former and current colleagues
Through time, all CBS employees have played a part in creating the CBS we know today. Therefore, on the occasion of CBS Centenary it is with great pleasure that CBS' Management invites all former CBS employees to a centenary reception. After the reception (15.30), current staff of CBS is invited for centenary beers and livejazz.
Get a glimpse of CBS history
President Per Holten-Andersen will be giving a welcoming speech and Assistant Professor, Anders Ravn Sørensen, author of the Centenary book about CBS' history, will elaborate on CBS life and development through a hundred years. Furthermore, the centenary movie will be displayed and catering from Spisestuerne will be served.
The program is as follows:
14.00 – 14.10: Welcome / President, Per Holten-Andersen
14.10 – 14.30: "CBS through 100 years" by Anders Ravn Sørensen, Assistant Professor at the Department of Management, Politics and Philosophy
14.35 – 15.15: "The story about CBS through a 100 years" / Centenary movie
15.15 – 15.30: Mingle
15.30 – 18.30: Reception for former and current CBS staff with livejazz and a bar
Come and celebrate with us and former colleagues
The first 100 guests will receive a free copy of the CBS Centenary book (choose between Danish or English).
We invite you to spread the good news to former and current colleagues that you would like to reunite with, and we look forward to seeing as many of you as possible. The event is free, but registration is required (see link below)
Register here: http://www.tilmeld.dk/cenrec2017/about-the-event.html 
Join us in celebrating CBS!
Per Holten-Andersen
President