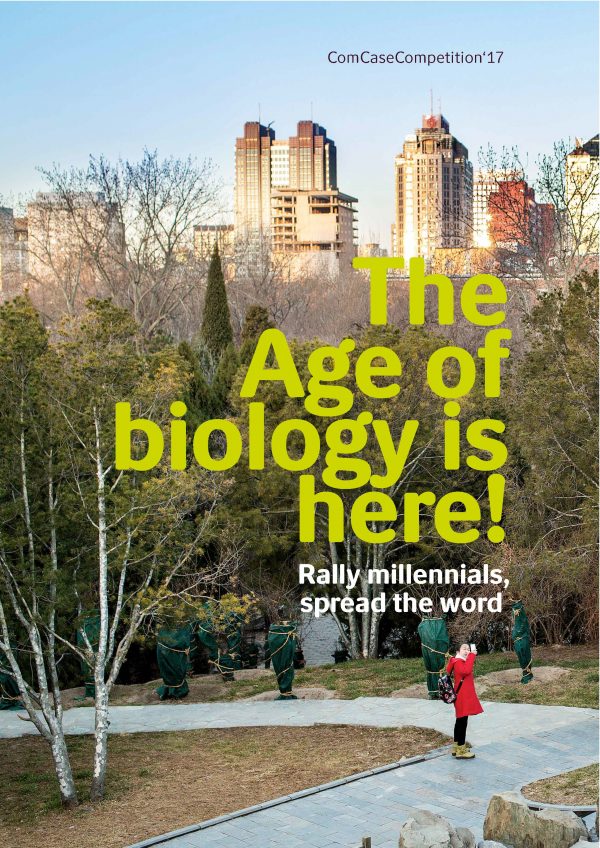 ComCaseCompetition – Finales
When: Wednesday 25 January, 2017 - 00:00 to Thursday 26 January, 2017 - 00:00
Where: CBS
In ComCaseCompetition talented communication students at the graduate level compete  to find the best solution for a global case challenge. At the finals on January 25th – 26th, six teams with max. five students each get 24 hours to solve a complex communication challenge.
This year's challenge is to create commitment and support from younger people for biological innovations as replacement of fossil fuels – in the era of digital and social media.
If you want to see what they come up with then join us in the finals, when they present their solutions to Novozymes and a jury of 9 experts on 26 January . Afterwards help us celebrate the winning team. There will plenty of networking opportunities, bubbles and snacks.
15.00                  Welcome to the finals and The Age of Biology
15.10                  Presentation Team 1
15.30                  Presentation Team 2
15.50                  Presentation Team 3
16.10                  Break
16.15                  Presentation Team 4
16.35                  Presentation Team 5
16.55                  Presentation Team 6
17.15                  Music and drinks while we wait during jury deliberations
17.45                  ComCaseCompetition 2017 winners are announced
18.00                  Celebration reception
This year's jury:
Karl-Heinz Pogner, Associate Professor, Intercultural Communication and Management, CBS
Simon Bentholm, Behavioural Designer & Partner, Kl. 7
Anders Monrad Rendtorff, Direktør, Zens
Craig R. Scott, Professor and Chair at Department of Communication, Rutgers University
Winni Johansen, Professor, AU
Daniel Bæk, Co-Founder and Managing Partner, NodesAgency
Astrid Gade, Senior Adviser, Corporate Communication
Simon Møberg Torp, Dean, SDU
Henriette Rald, Executive Director in Strategic Communication & Politics, Djøf
ComCaseCompetition 2017 is arranged by Djøf and hosted and co-arranged by Copenhagen Business School in collaboration with Novozymes. One of the main objectives is to bring students closer to the business world and hereby increase their employability; but also to demonstrate communication students' competencies to the communication industry. A group of Danish communication agencies will act as mentors for the finalists.
More information can be obtained at djoef.dk/ccc , on Facebook (comcasecompetition) and CBS' website