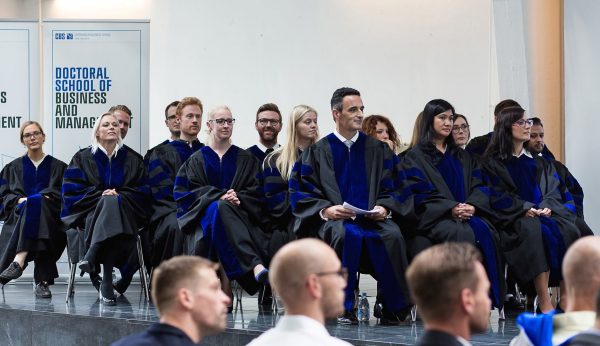 Celebrating Ph.D.s on Graduation Day
When: Friday 01 September, 2017 - 13:30 to 15:30
Where: The Kiln Hall, Porcelænshaven 22, 2000 Frederiksberg
CBS invites Ph.D. graduates and staff to a day of celebration 1st September in the Kiln Hall, Porcelænshaven
 2017 is a year of celebration at CBS, and we would like to mark the efforts of our Ph.D. graduates from the recent years as well as the 10th anniversary graduates. Their achievements will be acknowledged at a ceremony where President Per Holten-Andersen and Dean of Research Peter Møllgaard will give a speech followed by an external speaker. We would like to see the graduates from 2017, 2016, 2015 and 2014 in gowns on the stage. The ceremony will be followed by a reception.
The program is as follows:
13:30 – 14:00 Welcome drinks
14:00 – 14:10 Opening of the PhD Graduation Ceremony
14:10 – 14:20 Welcome by the Dean of Research Peter Møllgaard
14:20 – 15:00 Graduation Ceremony for PhD Graduates 2015-2017
15:00 – 15:10 CBS President Per Holten-Andersen congratulates 2015-2017 Graduates and introduces Anniversary Graduates
15:10 – 15:30 Graduation Ceremony for PhD Anniversary Graduates
There is no attendance fee.
Note that the event will be held in English.
We hope to see as many as possible for a centenary Graduation Day celebration.
Please contact phdgraduation@cbs.dk in case you have any questions or comments.