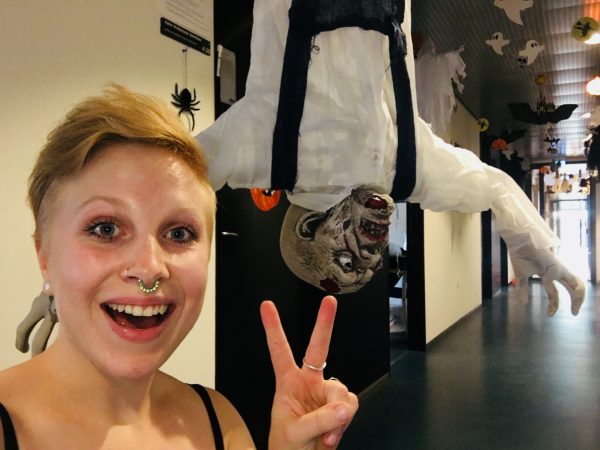 CBS keeps surprising me
The first day at Copenhagen Business School on 16 January 2017 was scary.
In the morning, I had a major clothing crisis. I had bought a new shirt for the occasion, but when I tried it on, you could see through it. I was not going to start my career as a journalist by wearing a see-though shirt and make everyone around me uncomfortable. So what to wear instead?
Luckily, I had another shirt with black unicorns lying around. Because you have to wear a shirt at CBS.
Or so I thought.
Upon starting my new job as a journalist at CBS, I had all these prejudices coming at me.
People at CBS wear light blue Ralph Lauren shirts and high heels. People at CBS are snobby. People at CBS only care about money.
So how was I supposed to fit in? I mean, I came to CBS wearing my bike helmet and Fjäll Räven jacket on my first day. And you know what? Not a single person glanced at me curiously thinking if I was lost, although, I had feared they would.
A couple of months went by, and I stopped wearing shirts every day and switched them out with band t-shirts and my beloved Star Wars t-shirt. No one commented on it or said it was not 'CBS like'.
And this is the thing about CBS. It is really not what you think it is at first glance.
During my time here, I have met so many different people – students and staff – all of them have surprised me and given me a new view on what kind of place CBS is.
The other day, I went to B5 at Solbjerg Plads to talk with some researchers involved in a blockchain project. After the talk, I went down one floor and there it was. An entire corridor decorated with Halloween themed decorations. I could not help putting on a big smile.
This is what CBS is to me. A place that keeps surprising me in mysterious ways. The stories, the people, the Halloween decorations. And this is why I love my job as a journalist exactly here.