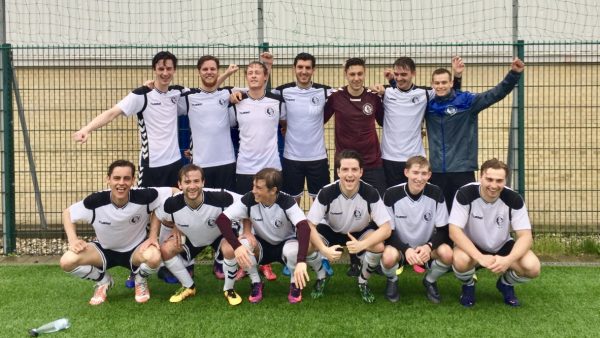 More than just a school
My first two years at CBS have been characterised by community, opportunity and friendship. Here is my story.
I embarked upon my CBS journey in August 2015. As for most people, my first encounter with university was the thrilling intro weeks. I do not think I have ever had that much fun in such a short time. It was two weeks filled with events, parties and interesting, open-minded and amazing people. The intro weeks were a great opportunity for making friends and networking – I even landed my first student assistant job during one of the parties.
As I am from Jutland, moving to Copenhagen meant a new everyday life, new friends and new extracurricular activities. I have always played football, but when I moved to Copenhagen I was fed up. What should I then do? My passion for football was however still intact, so when I came across CBS Sport Football my interest was sparked. I talked to a few people in the club and before I knew, I was a member of the Football board. It was the perfect extracurricular activity for me as it combined my passion for football with practical knowledge of leadership, strategy and organisation. The small and entrepreneurial board meant that I was given a lot responsibility but also the freedom to carry out my own ideas. Thus, CBS Sport became a place for me to put theory into practice and develop personally while having a ton of fun working with equally passionate and driven people. Besides ensuring the best possible football club in Copenhagen, the idea of the CBS Sport Football board is to be a place for students to gain knowledge of what it means to lead and develop an organisation. I therefore found it naturally to take up the position as chairman in the start of my second year at CBS after only a year in the club.
Soon, I also found myself back on the pitch. It was however a short pleasure as a hip surgery forced me off the field. Luckily, our first team found itself in need of a new coach, so I did not go further away than the touchline. Once again, I had the opportunity for a new and exciting experience. And what a ride it was!  I encountered both ups and downs, but then again that is what makes rollercoasters fun.
The CBS Sport community has had a great influence on the first two years of my CBS journey. Enrolling in the blue brigade has without a doubt been the best decision I have made in my time at CBS. I mean, where else can a 22-year-old be in charge of a football club?
PS: A picture of just me would not be right. So here is a picture of our men's first team after securing promotion to serie 1. I am in the top right corner.