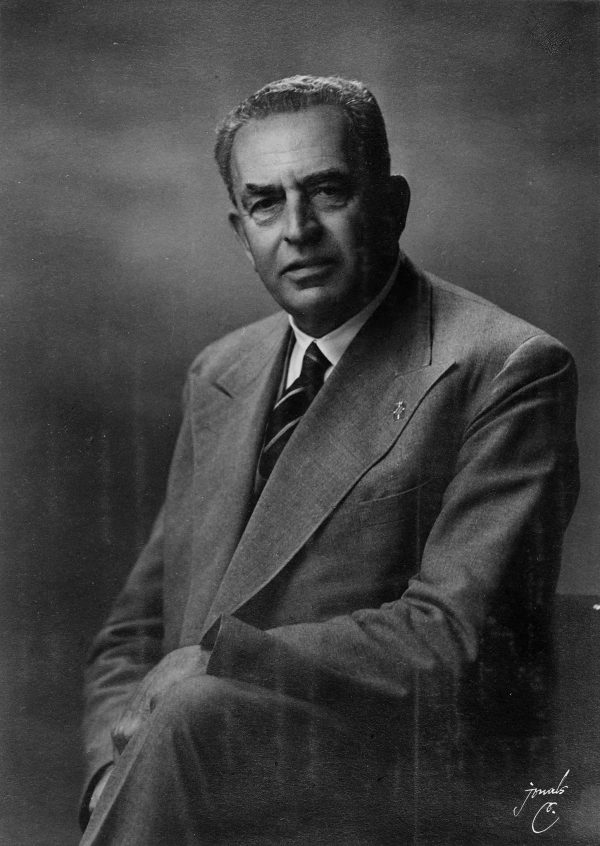 Aage Kunst
Chairman of FUHU
As chairman of the Danish Society for the Advancement of Business Education (FUHU) 1931-43, Aage Kunst (1885-1943) worked tirelessly to develop Handelshøjskolen into an institution of higher education in line with the universities. A trained clerk, Kunst was employed by the East Asiatic Company, who offered him a management position in Bangkok. Instead, he chose to become a merchant and took over S. Kjersgaard & Co. in 1916, a company he turned into one of the largest players in the industry. In 1920, he was appointed member of the board of FUHU and became chairman in 1931.
From the outset, Aage Kunst was deeply involved in the development of Handelshøjskolen, and he joined Tilsynsrådet (the school's external supervisory body) at its establishment in 1926. He continuously supported Marius Vibæk's efforts in establishing research environments at Handelshøjskolen as well as improving the academic content of the programmes, placing them on a par with university programmes.
Aage Kunst initiated the so-called 'unity plan' in 1929 – a plan, which introduced the master degree to Handelshøjskolen – today's Master of Science. When the University of Copenhagen attempted to prevent Handelshøjskolen from obtaining the right to appoint professors at the beginning of the 1930s, Aage Kunst refused to take no for an answer and kept pushing for the permission until he succeeded in 1935.