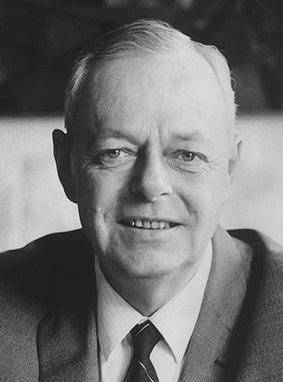 Jan Kobbernagel
Rector 1963-1975
As rector, Jan Kobbernagel led Handelshøjskolen through a turbulent period, from the passing of the Business School Act in 1965 to the student rebellion in 1968 and the University Governance Act in 1973. As a Master of Law and a high court attorney and a few years as reader and associate professor, he became professor of commercial law at Handelshøjskolen.
Jan Kobbernagel became rector in 1963 and carried out the central negotiations on Handelshøjskolen's separation from the Danish Society for the Advancement of Business and transformation into an independent institution in 1965. During the student rebellion, he supported students and younger lecturers in confronting the "power of professors". He also implemented a democratisation of the organisation and management of Handelshøjskolen before the University Governance Act was passed in 1973.
When the majority of the professors in economics attempted to detach the language programmes from Handelshøjskolen in the beginning of the 60s, Jan Kobbernagel backed the resistance coming from the language faculty and secured the future of the language programmes.